Did you know that in May 2016 the Washington Post reported that Washington, DC broke a new record by receiving $7.1 Billion dollars from tourism?
In 2017 Washington, DC became one of the top two destinations to visit in the United States because of the opening of the new Smithsonian National Museum of African American History and Culture (NMAAHC) -- which opened in September 2016. I conduct a heritage tour on U Street in NW Washington, DC. You can click HERE to learn more and buy a ticket.
My first major tourism effort in Washington, DC was the Ethiopian Millennium Day in 2007. We were told afterward that we hosted nearly 20 thousand people for the entire day. It was a great time and widely supported. I worked with the leading organization as a fund-raiser and advisor. My work secured Starbucks Coffee Company as the principal event sponsor. The image below is of the mayor's proclamation for Ethiopian Millennium Day. (Photo Credit: Office of the Mayor District of Columbia).
1.
In January 2014 I produced a coffee tasting event celebrating sustainability. It featured an Ethiopian Coffee ceremony and was held at the original Tesla showroom in downtown Washington, DC. The event showcased Ethiopian and Haitian coffee; 'Haitian Blue' originated in Ethiopia. The coffee ceremony is traditional indigenous culture. It was hosted by husband and wife team Tebabu Assefa and Sara Mussie (below on the right) of Blessed Coffee. In the center is Cafe Kreyol founder Joe Stazzone. (Photo Credit: Anthro21).
2.
In October 2014 I hosted a mask making event to teach traditional indigenous culture. I did the event with the help of DC Cultural Tourism's Art4All program. It rained that day and not everyone showed---however it was an amazing time and went better than expected! (Photo Credit: Anthro21).
3.
In January 2015 I facilitated a meeting with the Ambassador Extraordinary and Plenipotentiary of the Commonwealth of The Bahamas to the United States of America, His Excellency Dr. Newry on behalf of a client to bring tourists of African descent from the USA and Canada to select sites in the Bahamas. (Photo Credit: Anthro21).
4.
I worked to make John G. Parker , abstract painter, a featured artist in the September 2015 Washington, DC ArtAllNight event. This arts festival has become a major attraction for DC.
(Photo Credit: Shaw Main Streets).
5.
In July 2016 I was an invited guest to witness Ethiopian Airlines reactivate direct flights from New Jersey Liberty Airport to Togo afer 15 years. This photo is with Ethiopian Airlines CEO Mr. Tewolde GebreMariam.
(Photo Credit: Anthro21).
6.
In February 2017 I conducted a tour for the Washington Informer newspaper's Heritage Tour in the National Museum of African American History & Culture. I am here in the photo with the Washington Informer's publisher, Mrs. Denise Rolark-Barnes.
(Photo Credit: Anthro21).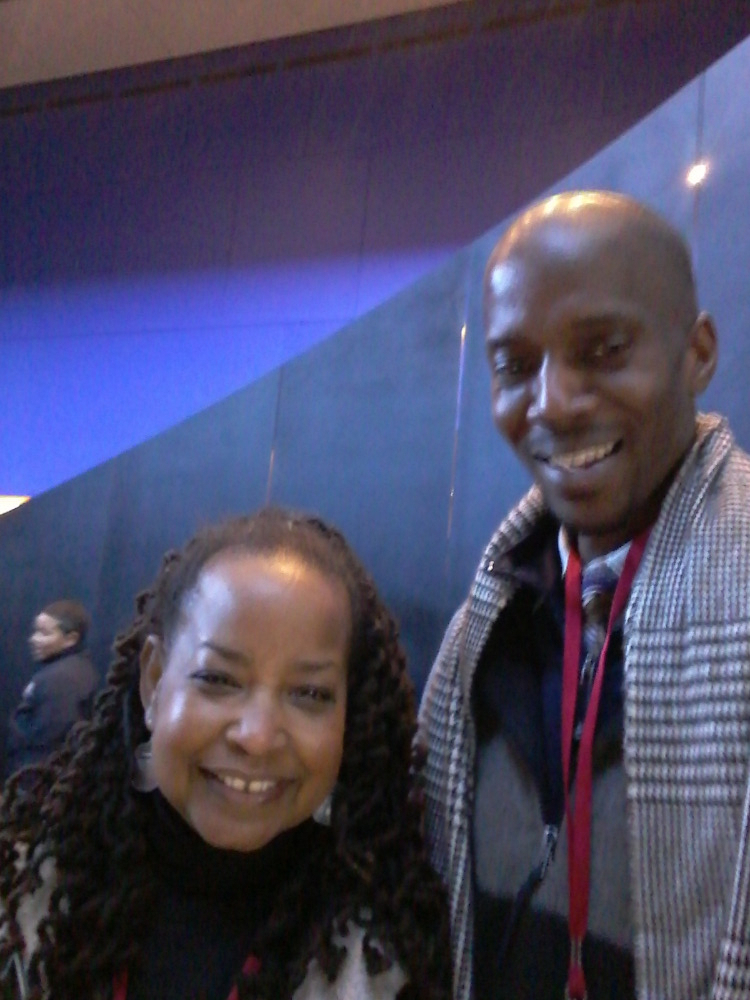 7.
In March 2017 I was asked by Dr. Ephraim Isaac, from Princeton University, to give a VIP tour of the National Museum of African American History & Culture (NMAAHC). This was an honor because Dr. Isaac is the founder and first professor of the Afro-American Studies at Harvard University. In recognition of his merits, the "Ephraim Isaac Prize for Excellence in African Studies" is given every year to a Harvard University graduate who writes the best essay in African Studies.
CLICK HERE to watch the the video of his visit.